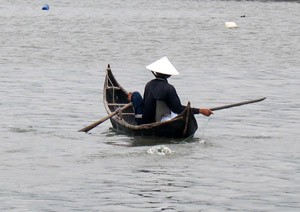 A fishing resident in the Mekong Delta, southern Vietnam. Aquaculture is a very important sector in the region. (Photo: Thinh Khanh)
Prime Minister Nguyen Tan Dung has asked the Japanese government to help Mekong river countries conduct research on joint protection and effective use of Mekong river resources.
PM Dung said this while receiving Japanese Ambassador to Vietnam Mitsuo Sakaba in Hanoi on Nov. 2, who conveyed the invitation of Prime Minister Yukio Hatoyama for the PM to attend the Mekong-Japan Summit which is scheduled later this week in Tokyo in order to boost cooperation between Japan and Mekong river countries on environment, infrastructure and human resources.
PM Dung said that effectively promoting Japan's initiative would contribute to raising its profile in regional cooperation and with the Association of Southeast Asian Nations (ASEAN), bringing benefits to both sides as well as contributing to peace and development in ASEAN and Asia.
Ambassador Sakaba said the Japanese government expects the meeting to issue a Tokyo statement and pass a detailed action plan, in which Japan will pay special attention to environmental protection in the region.
Japanese Prime Minister Yukio Hatoyama proposed that the meeting be held every year and that the next event convene in Vietnam, coinciding with the ASEAN Summit in 2010, he added.
Also during the reception, PM Dung and Ambassador Sakaba discussed mutual cooperation projects on Noi Bai airport terminal T2 and the road linking Noi Bai airport to Nhat Tan Bridge, and Lach Huyen port.