The Vietnamese government attaches importance to cooperating with the Netherlands in the areas of economy, trade, investment and development aid.
Vietnamese Prime Minister Nguyen Tan Dung made the statement while meeting with his Dutch counterpart Jan Peter Balkenende on the sidelines of the UN climate summit in Copenhagen, Denmark, on Dec. 18.
PM Dung thanked the Netherlands' for its development assistance for Vietnam in recent years, stressing that Dutch-funded projects made contributions in reducing poverty and developing many socio-economic sector.
The European country provided Vietnam with financial assistance through technical assistance projects in environmental protection, focusing on coastal areas and water resources, he said.
The PM asked the Netherlands to continue providing aid in water resource management, agriculture-related climate change techniques, flooding prevention, recycled energy programs, sea port infrastructure, and maritime law training.
The Netherlands is Vietnam's third largest trading partner in Europe with turnover reaching 3 billion USD in 2008.
Hailing Vietnam's socio-economic development achievements, PM Jan Peter Balkenende was delighted at bilateral developments between the two countries. He said he wished to welcome PM Dung to visit the Netherlands.
The Dutch PM affirmed his willingness to cooperate with Vietnam in areas that are the Netherlands' strong points, particularly economy and trade.
PM Balkenende said he wished the Vietnamese ministries and agencies to visit his country to discuss and share experiences.
Earlier, PM Dung had a meeting with his Nepalese counterpart Madhav Kumar Nepal. PM Dung proposed the two sides should boost exchanges of visits at all levels and strengthen cooperation in trade, agriculture and rural development, tourism and culture.
The Nepalese PM expressed his wish to learn Vietnam's experience in poverty reduction and national development.
PM Nepal said he wanted Vietnam to early open an embassy in his country.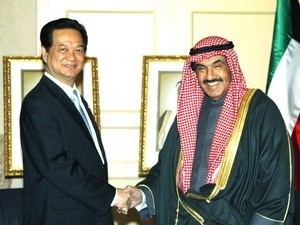 Vietnamese Prime Minister Nguyen Tan Dung (L) meets with his Kuwaiti counterpart Nasser Al-Sabah in Copenhagen, Denmark on Dec. 18 (Photo: Vietnam News Agency)
In another meeting with Kuwaiti Prime Minister Nasser Al-Mohammed Al-Ahmed Al-Sabah, PM Dung stressed Vietnam's esteem to boost traditional friendship and comprehensive cooperation, particularly trade, investment, oil and gas, and energy with Kuwait.
PM Dung spoke highly of Kuwait's commitment to join the Nghi Son oil refinery project as well as to consider capital provision to Vietnam's transport infrastructure construction project.
On this occasion, the PM urged the Kuwait Petroleum Corporation and PetroVietnam to sign a cooperation agreement, creating a foundation for the two countries' long-term relationship in the oil and gas sector. He also asked that Kuwait increase annual development aid to Vietnam and closely coordinate in implementing agreements on agriculture and education-training.
PM Nasser Al-Mohammed Al-Ahmed Al-Sabah said he wished to cooperate with Vietnam in agriculture and promote Kuwaiti businesses investment in Vietnam.
He confirmed Kuwait's intent to provide scholarships to Vietnamese students in the oil and gas sector and receive Vietnamese laborers to work in Kuwait.