The Vietnamese Prime Minister will in December visit Malaysia and Singapore, and then attend the 12th summit of the Association of Southeast Asian Nations (ASEAN) in the Philippines from December 10 to 13, Viet Nam's Ministry of Foreign Affairs has announced.
PM Nguyen Tan Dung will visit Malaysia on December 6-7 and Singapore on 7-9 at the invitation of his Malaysian and Singapore counterparts Abdullah Ahmad Badawi and Lee Hsien Loong. This is Mr. Dung's first visit to the two ASEAN countries since he became the Vietnamese government leader in April this year.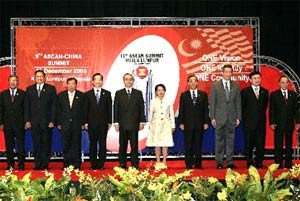 ASEAN leaders at their 11th summit in Malaysia
The Vietnamese PM will then move to the Philippines for the annual ASEAN Summit, where regional leaders will discuss various issues such as trade, investment and security.
During the summit, ASEAN leaders will also meet with leaders from China, Japan, the Republic of Korea, India, Australia and New Zealand.
Other relevant conferences will be meetings for leaders from Cambodia, Laos, Myanmar and Viet Nam; for the four countries' leaders and Thai leaders; for Cambodian, Lao and Vietnamese leaders with Japanese leaders; and a senior forum on business and investment in ASEAN.