Vietnamese President Nguyen Minh Triet joined leaders and representatives of the 21 APEC economies at the first retreat session of the 17th APEC Economic Leaders' Meeting (AELM) held in Singapore on Nov. 14.
Speaking at the session, President Triet emphasized the importance of increased e economic links in the APEC region, describing it as the key to success and a firm foundation for APEC to maintain its role in the region and the international arena at large.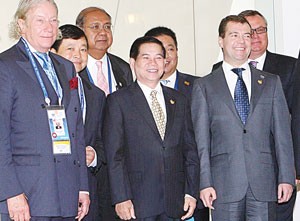 Vietnamese President Nguyen Minh Triet (C) and other APEC leaders pose for a picture in Singapore on Nov. 14 (Photo: Vietnam News Agency)
The President said the regional and international situation is now opening up new opportunities and tough challenges, such as rebuilding the global economy, promoting multilateral trade, combating protectionism, climate change, energy and food security.
These challenges are beyond of the capacity of settlement of a single nation, therefore APEC needs to unite and coordinate together closely, he stressed.
In the pursuit of this spirit, President Triet called on APEC to speed up the fulfillment of the Bogor goals, accelerate regional integration and tackle obstacles due to uneven development levels in the areas of education-training, human resource development, and transfer of high and clean technologies.
The APEC economies should join hands to reduce trade discrimination against developing members, make the best of regional and sub-regional connectivity mechanisms, and promote the multilateral trade system, the State leader elaborated.
Following the meeting, President Triet and other APEC leaders held a dialogue with representatives of the APEC Business Advisory Council (ABAC) to seek ways to facilitate business and investment activities in the region and in Vietnam.
The same day, President Triet had a bilateral meeting with his Russian counterpart Dmitry Medvedev, during which the two leaders discussed measures to deepen the strategic partnership and boost cooperation in the fields of economics, science, technology, education, training and energy between the two nations.
President Triet said Russia is a major and traditional friend of Vietnam, adding that Vietnam would do its utmost to promote the organization of a high-level Russia-ASEAN meeting in Hanoi in 2010 when it assumes the ASEAN presidency.
For his part, President Medvedev said Russia-Vietnam cooperative relations have developed in all channels and at all levels, especially in the areas of energy, education and training.
The Russian leader applauded Vietnam's future assumption of the ASEAN presidency in 2010, saying he believed that Vietnam will fulfill its important task. He also promised to cooperate with Vietnam to foster the Russia-ASEAN dialogue relationship.
Receiving Microsoft's Chief Research and Strategy Officer Craig Mundie, President Triet said, while implementing its development strategy, Vietnam has spared no effort to get access to the world's leading information technology, including those of Microsoft.
He shared Microsoft's interest in Vietnam 's IT personnel training and pledged to urge concerned Vietnamese agencies to work closely with Microsoft to promptly carry out projects in this field.
At a reception given to President and CEO of Siemens AG Peter Loscher, the State leader praised the group's efforts to expand its investment activities in Vietnam .
President Triet said Ho Chi Minh City is in need of 300-400 km of metro, so that Siemens could implement more projects to help the city ease traffic congestions.
Loscher said he believed that the metro construction project in Ho Chi Minh City will be kicked off on schedule because both the German government and parliament support the project.
Also on Nov. 14, Deputy Prime Minister and Foreign Minister Pham Gia Khiem, who is accompanying President Triet, met with Foreign Ministers of Indonesia and Peru to discuss ways to strengthen bilateral cooperation and coordination at multilateral forums.