Viet Nam values activities to reform the United Nations, including the "One U.N" initiative, as they encourage endeavors for development of all countries, especially developing ones, President Nguyen Minh Triet said Tuesday.
The Vietnamese President made the remark at his reception in Ha Noi for the Co-Chairs of the U.N. General Assembly "U.N. System-wide Coherence," John Paul Kavanagh and Augustine Philip Mahiga, Ireland and Tanzania Ambassadors to U.N., respectively.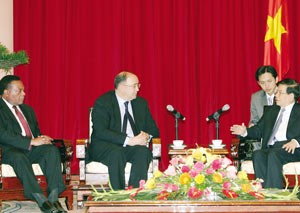 Vietnamese President Nguyen Minh Triet (R) meets with Mr. John Paul Kavanagh (C) and Augustine Philip Mahiga in Ha Noi Tuesday. (Photo: SGGP)
Viet Nam has worked with the world body, it agencies and donors to develop the "One United Nations" model in the country, President Triet told the Co-chairs, who came to garner experiences on the implementation of "One U.N." to which Viet Nam is one of pilot countries.
He noted that the country is working on a report on the deployment of "One U.N." as well as proposals for the initiative to be implemented effectively.
The Vietnamese President appreciated the U.N., its agencies and donors for assisting Viet Nam in its economic development and social improvements and expressed hope for more support in the future.
He affirmed that Viet Nam will do it best to make practical contributions to the U.N. Security Council, particularly in peacekeeping and security issues in the region and the world.
The Co-chairs said they believed Viet Nam will have an important voice in the U.N. General Assembly's general debate on "One U.N." on March 28.
Many countries are interested in Viet Nam's viewpoints on the "One U.N." initiative, the ambassadors said.