Lima (VNA) – State President Nguyen Minh Triet met with his Peruvian counterpart, Alan Garcia Perez, and Japanese Prime Minister Taro Aso in Lima on Nov. 21 (local time) right after his arrival in the Peruvian capital city to attend the 16th Asia-Pacific Economic Cooperation (APEC) Economic Leaders' Meeting.
Meeting with the Peruvian president, Alan Garcia Perez, President Triet stressed Vietnam's support to Peru's initiatives aiming to boosting cooperation among APEC members, particularly those regarding the price increases of food and fuel and the social responsibilities of businesses.
In terms of bilateral ties, President Triet expressed his hope that on the foundation of their fine traditional relationship, the two countries will make full use of the advantage to promote efficient cooperation.
Vietnam and Peru need to boost economic cooperation to match the two countries' potentials and political relations, he said.
According to President Alan Garcia Perez, Vietnam and Peru have potentials for cooperation in oil and gas, electronics, cereals and food products, which are the fields that Vietnam has advantage in export.
He also spoke highly of Vietnam's initiative of organizing the Vietnam-Peru Business Forum during President Triet's stay in Peru.
President Triet invited his Peruvian counterpart to pay an official visit to Vietnam. President Perez accepted the invitation with pleasure, adding that he plans to make the visit next year with a business delegation in order to create an impetus for bilateral cooperation.
While meeting with Japanese Prime Minister Taro Aso, President Triet expressed his thanks to the Japanese government for providing official development assistance (ODA) for Vietnam.
He asked Japan to accelerate the implementation of three large projects, the north-south express railways and roads and the Hoa Lac hi-tech park, and get more involved in urban transportation development projects in Ho Chi Minh City and Hanoi.
President Triet reiterated the Vietnamese government's determination to fight corruption, adding that it will work hard to clear up allegations relating to the Pacific Consultants International (PCI)'s bribe to a Vietnamese official, and any violations will be strictly punished.
The Japanese PM stressed that Vietnam-Japan relations have experienced positive development in the spirit of strategic partnership, especially after President Triet's Japan visit last November.
He thanked Vietnam for supporting Japan's bid to become a non-permanent member of the United Nations Security Council for the 2009-2011 term.
Aso expressed pleasure at the completion of negotiations on the Vietnam-Japan Economic Partnership Agreement (EPA), the signing of which is expected to take place on the occasion of the ASEAN summit in Chiang Mai, Thailand in December.
He also said the Japanese government is preparing for the Crown Prince's visit to Vietnam next February.
On the afternoon the same day, President Triet attended the Vietnam-Peru Business Forum, which was jointly held by the Vietnam Chamber of Commerce and Industry (VCCI) and the Lima Chamber of Commerce (LCC).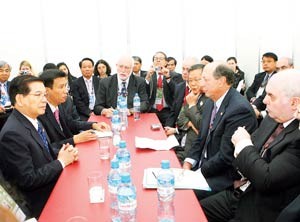 President Nguyen Minh Triet (1st,L) meets with American business people in Lima on Nov. 23
Speaking before representatives of 200 businesses of both countries, President Triet said Vietnam is offering favorable and open investment conditions to foreign investors. "An estimated 60 billion USD of foreign investment capital pouring into the country so far in 2008 is an evidence of its attractive environment," he said.
President Triet and Peruvian first Vice President Luis Giampietri Rojas witnessed the signing of cooperation agreement between VCCI and LCC.