Vietnamese President Nguyen Minh Triet arrived in Havana in the afternoon of Sept. 26, local time, starting his official visit to Cuba at the invitation of President of the State Council and Ministers Council, Raul Castro Ruz.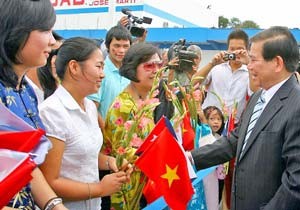 Vietnamese President Nguyen Minh Triet (R) is welcomed by staff of the Vietnamese Embassy and Vietnamese students at Jose Marti Airport in Cuba's Havana Sep. 26 (Photo: Vietnam News Agency)
Meeting with Vietnamese and international reporters at the airport, President Triet expressed his emotion while returning to the country of Cuba, saying he is proud of the traditional relations and special friendship between the two countries.
He informed that during his visit, leaders of both countries will discuss measures to consolidate and strengthen friendship and all-round cooperation between the two nations, especially in the sectors of each country's strength.
Vietnam and Cuba established diplomatic ties in 1950. The Latin American country was the pioneer in a movement to support Vietnam for its struggle for independence and freedom.
Cuba has also paid due attention to speeding up relations with Vietnam, particularly in transportation, bio-technology, education and health care.
The two countries have seen remarkable increase in bilateral trade-turnover, with 2008's value reaching 497 million USD.
Meanwhile, at his meeting with diplomats and staff of the Vietnamese embassy and the country's representative offices in Cuba, President Triet asked them to uphold their role as a bridge to promote cooperation with Cuba, share experience and take advantage of both countries' strength to further develop Vietnam-Cuba traditional relations.
As scheduled, on Sept. 27, local time, President Nguyen Minh Triet will lay wreaths at the monuments of Cuba's national hero Jose Marti and late President Ho Chi Minh in Havana and visit Moncada's heroin Melba Hernadez.
A red carpet to welcome President Nguyen Minh Triet will be held at the Revolutionary Palace in the afternoon of the same day.