Vietnam is an excellent model for researchers of Marxism, offering an insightful look at the road to socialism, said a foreign leftist delegation currently in Ho Chi Minh City on a working visit.
Deputy Secretary of the HCMC Party Committee Nguyen Van Dua received the delegation, led by American journalist Merle Evelyn Rartner, who is co-chair of the Brecht Forum at the New York-based Marx School, on January 4.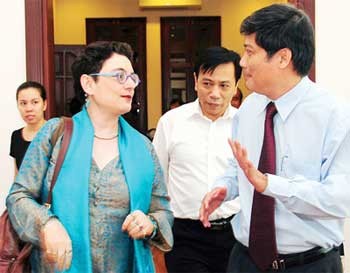 HCM City Party Committee Deputy Secretary Nguyen Van Dua (R) speaks with a member of the visiting delegation of leftists on January 4. The delegation says Vietnam has creatively employed Marxism-Leninism in building socialism. (Photo: SGGP)
The delegation also included Chilean Director Maria Marta Harnecker Cerda of the Memoria Popular Latinoamericana, a research center in Havana, Cuba; and Michael A. Lebowitz, a professor at Canada's Simon Frazer University and founding member of the Socialism Research Association in Canada.
The two sides exchanged information and experiences and discussed such issues as Marxist reasoning in the 21st century; causes of the collapse of the Soviet Union and socialist East European countries; socialist propaganda and the path to socialism; and the emergence of leftist movements in Latin American countries.    
Guests also heard about HCMC's experience in developing socialism.
Having visited some 30 provinces and cities in Vietnam over the past few years, the leftist delegation said it highly valued Vietnam's achievements in various fields.
They attributed such achievements to the fact that Vietnam has properly and creatively applied Marxism to the building of socialism based on the country's actual socio-economic conditions.
By studying Vietnam, researchers can gain a deeper understanding of the road to developing a socialist society, they said.
Discussing economic development issues, the delegation said the rich-poor gap in society would be widened if a socialist-oriented market economy were not applied in socialist countries.
They also warned about "cultural imperialism" spreading in the world and about a lack of Marxism-Leninism awareness amongst youth. 
Mr. Dua expressed warm feelings after meeting with researchers of Marxism-Leninism "right in the heart of capitalism," saying he hoped the visit will help establish a better understanding of Vietnam's road to socialism.
Earlier, the delegation visited Sai Gon Giai Phong newspaper where they were welcomed by Editor-in-Chief Tran The Tuyen. Mr. Tuyen briefed them on the newspaper's recent public awareness campaigns including a series of articles titled "Marxist-Leninist doctrine and socialism: trend or necessity," which have proved popular amongst both local and foreign readers. 
Ms. Rartner highly appreciated the articles and said SGGP has taken a lead in the struggle to defend the ideologies of Marxism-Leninism as well as in discussing socialism-related issues. It has thereby contributed to combating misperceptions about Marxism and socialism, she added.