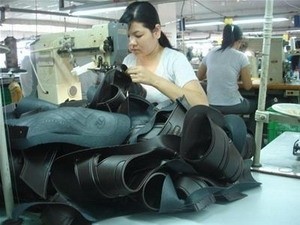 Workers make shoes at a factory in Vietnam (Photo: Vietnam News Agency)
Vietnam has rejected the European Union's extension of anti-dumping duties on its leather-capped shoes for 15 months, saying it is an unfair decision and does not reflect the reality of footwear production in the country.
Foreign Ministry's spokeswoman Nguyen Phuong Nga voiced the protest after ambassadors of the EU member countries voted for the prolongation of the punitive taxes at a meeting on Dec. 17.
"The decision goes counter to the developments of friendly and cooperative relations between Vietnam and the European Union, and deeply disappoints the government, businesses and workers of Vietnam," she said.
The spokeswoman affirmed Vietnam's enterprises did not dump leather-capped shoes on the European market. These companies did not intend and were not able to pursue this policy for such a long time because they are small and medium-sized businesses and have mainly done outwork for their foreign partners, including those from the EU.
As the world economy has yet to fully recover, the EU's extension of the penalty taxes will worsen difficulties facing Vietnamese businesses and workers, as well as continue to pose the adverse impacts on European footwear producers operating in Vietnam and a large number of European consumers, she elaborated.
Nga said Vietnam once more proposes EU member nations and the European Commission consider the case objectively and fairly for the legitimate interests of Vietnamese businesses and workers, as well as of European companies and consumers and put an end to anti-dumping duties on Vietnamese leather-capped shoes.