Viet Nam's National Assembly Chairman Nguyen Phu Trong and the Republic of Korea's National Assembly Speaker Lim Chae Jung held talks in Seoul on March 21, and companies of the two countries inked four agreements worth US$1.15 billion the same day.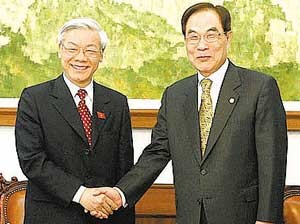 Mr. Lim Chae Jung (R) meets with Mr. Nguyen Phu Trong in Seoul (Photo: VNA)
Speaker Lim Chae Jung hailed the Vietnamese legislative high-level delegation's visit to RoK and said he was pleased by the fruitful development of Korea-Viet Nam relations since the two countries established diplomatic ties in 1992.
Chairman Trong said he believed the visit would be highly successful in boosting friendship and multifaceted cooperation between the two legislative bodies and the two countries in general.
At the two countries' Business Forum in Seoul the same day, businesses signed four deals worth US$1.15 billion in all.
In the witness of Chairman Trong, Saigon Investment Group of Viet Nam inked a US$600 million contract with IDEA Company to build a residential area in Ho Chi Minh City, and a $50 million joint venture project with Seuing-Il Company.
The Vietnamese Association of Small and Medium-sized Enterprises and Daewoo Capital made a $300 million deal. CIENCO 5 of Viet Nam and Kumho E&C reached a $200 million project.
The same day, NA Chairman Trong received Mr. Sung Woan Jong, Chairman of Kaengnam, a leading Korean construction company, and Mr. Lee Dong Rhim, Chairman of Daewoo Capital – a big financial and banking group.