At an invitation of Vietnam National Assembly (NA) Chairwoman Nguyen Thi Kim Ngan, Russian Federation Council Chairwoman Valentina Ivanovna Matviyenk led a high- level delegation of Russia's Federation Council and National Assembly to visit Vietnam from February 20- 22.
The Vietnamese NA chairwoman had a talking with Federal Russia Council Chairperson Valentina Ivanovna Matviyenko after an official welcoming ceremony was held at National Assembly House yesterday.
At the discussion, Ms. Ngan affirmed that Vietnam has always respected and reinforced comprehensive partnership relation with Russia hoping that two countries will boost effective cooperation in the upcoming time.
Chairperson Matviyenko expressed her pleasure at advantaged development of the two countries in previous time strongly affirming that Russia wants to further friendship and cooperative relations between Vietnam- Russia parliaments through international parliament forum.
Russian Federation treasured development of the two nations in the fields of economy and investment amid to global economic difficult context. In recent ten years, Vietnam and Russian Federation trade turnover has increased, especially trade turnover has reached at over US$ 3 billion.
The Russian Federation Council Chairwoman believed that Vietnam- Russia commerce turnover is expected to rise over US$ 10 billion by 2020, the two countries' parliaments shall assist as well as create more favorable conditions to impulse and expand investment cooperation in fields of energy, oil & gas, agriculture, industry, tourism and others.
In the upcoming time, the national assemblies are going to cooperate and check agreements and necessary texts in order to effectively adopt the EU-Vietnam Free Trade Agreement.
For the Vietnamese side, NA chairperson Nguyen Thi Kim Ngan hoped to soon speed up to sign an agreement about controlling food safety, creating advantages for Vietnamese enterprises as they export their agricultural and seafood products into Russian market. In parallel, she also believed that Vietnam and the partner will continue strengthening the cooperation of security and defense, education and training, science and technology, culture, tourism and potential sectors.
On the same day, State President of Vietnam Tran Dai Quang received Russian Federation Council Chairwoman at Presidential Palace in Hanoi.
At the reception, the president strongly affirmed that Vietnam has respected comprehensive partnership ties with Russia, and suggested the two nations need to closely collaborate in effectively implementing the EU- Vietnam Free Trade Agreement and expanding exports and investment into mutual markets.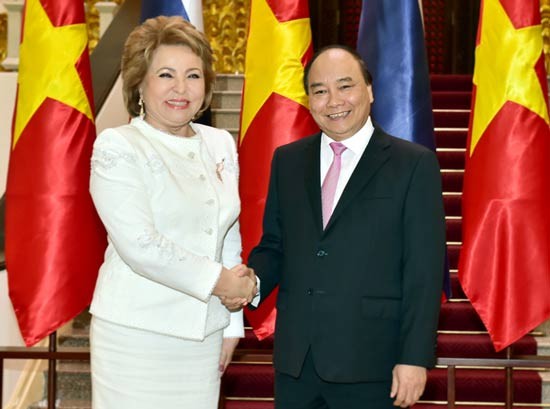 Vietnamese Prime Minister Nguyen Xuan Phuc and Russian Federation Council Chairwoman
In the other meeting with Ms. Valentina Ivanovna Matviyenko at Governmental Office, Vietnamese Prime Minister (PM) Nguyen Xuan Phuc said that Vietnam has given priority to promoting comprehensive partnership relations with Russia, military technology cooperation, security and defense.
Excepting to continue adopting oil & gas cooperation projects, the Southeast Asia supports Russian Federation to invest in the projects in the fields of energy, railway and metro.
PM Nguyen Xuan Phuc thanked for Russian Federation National Assembly and Government in supporting 100 scholarships per year for Vietnamese students.