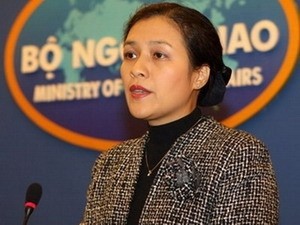 Foreign Ministry spokesperson Nguyen Phuong Nga (Source: Vietnam News Agency)
Vietnam' Foreign Ministry spokesperson on April 9 rejected comments on human rights in the country made by the US Department of State, UK Department of Foreign Affairs and the EU Delegation to Vietnam, underlining "they are partial and based on erroneous information".
Spokeswoman Nguyen Phuong Nga made the protest in her reply to correspondents ' queries regarding the comments on Vietnam contained in the 2010 Human Rights Reports of the US Department of State and the UK Department of Foreign Affairs, and a recent statement of the Head of the European Union (EU) Delegation to Vietnam .
"In Vietnam, the people's fundamental freedom rights are specifically prescribed in the Constitution and legal documents, and ensured in reality," Nga said.
She stressed that in recent years, Vietnam has recorded wide-ranging achievements in ensuring human rights in all spheres of civil affairs, politics, economics, culture, and social life, which have been recognised by the international community.
The spokeswoman stated: "The Vietnamese people have fully and actively participated in all aspects of social life. The protection and promotion of human rights are important factors to create consensus in society and help the renewal process in Vietnam succeed."
In any other countries elsewhere, every violation of law must be handled in accordance with law, Nga said, emphasising that "Vietnam is the state of the rule of law so all violations of law in the country are handled in line with regulations of its law and in conformity with international laws, including the International Convention on Civil and Political Rights."
She confirmed that Vietnam has already held dialogues on issues of mutual concern with different partners, including the US , the UK and the European Union, holding onto the spirit of cooperation and the principle of equality and mutual respect.
However, "it is regrettable that the US Department of State, the UK Department of Foreign Affairs, the EU Delegation to Vietnam and several organisations have made partial comments on Vietnam on the grounds of the wrong information they had, failing to reflect correctly the situation in Vietnam and giving out opinions that interfered in the country's internal affairs," the spokeswoman said.