Vietnam's economy is rebounding after the global economic crisis, but if the country wants to achieve sustainable development it must strengthen its market economy, create more value-added products, and step up human resources training, said Dr. Le Dang Doanh.

Vietnam has seen an economic recovery thanks to the Government's economic stimulus packages and efforts by agencies and businesses, Dr. Doanh, an economic expert, said in a recent interview with SGGP.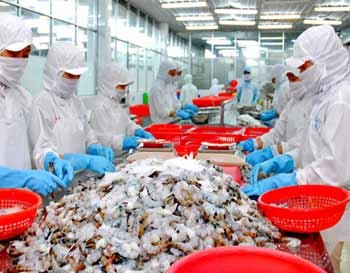 Workers process shrimp for export at Seafood Export JS Co. No.1. To achieve sustainable development, the country needs to boost its export of processed products instead of crude ones, an expert advises. (Photo: SGGP)
However, the economy is growing in terms of quantity but not quality with exports containing few value-added features such as crude oil, charcoal, and coffee beans, he said.
Regarding anti-corruption efforts, Dr. Doanh said the fight has yet to yield good results in practice.
In addition, educational and administrative reforms have also failed to reach expectations.
 
As reported by the World Bank in 2006, "as much as 73 percent of Vietnam's national assets was natural resources, 20 percent was tangible assets and only 7 percent was intangible, such as technology, intellect or human capital," Dr. Doanh said.
"Meanwhile, the respective rates in OECD countries, where income per capita is over US$10,000, are 2, 17 and 80 percent respectively."
Moreover, Vietnam's rank in competitive capability has dropped 11 steps since 2006 to 73 among 133 economies assessed by the World Economic Forum, he said.
In order to improve itself, Vietnam needs to step up its market economy, strengthen administrative reforms, and improve the quality of human resources, he stated.
The country should also boost investment in research and development, technological development, workforce training, and enhancing education quality, Dr. Doanh said.
 
The country needs to focus more on quality than quantity of exports, he said. "Instead of increasing the volume of rice exports, we should invest more in improving rice quality."
Rather than exporting mainly crude products, the country should create more processed products for export, he advised.
In addition, businesses should pay attention to building their own brand names and images in domestic and international markets, Dr. Doanh added.