Vietnamese Prime Minister Nguyen Xuan Phuc yesterday talked with Prime Minister of Sri Lanka Ranil Wickremesinghe in Hanoi after a welcome ceremony.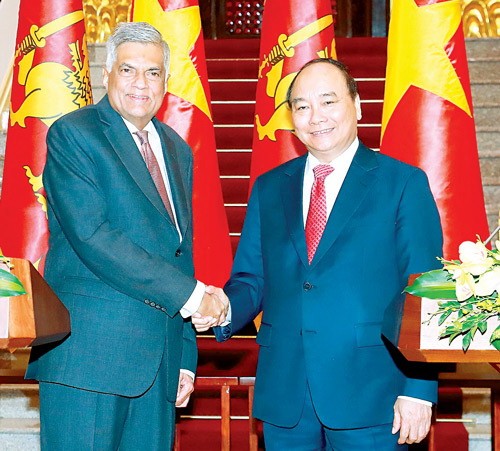 Vietnamese Prime Minister Nguyen Xuan Phuc (R) talks with Prime Minister of Sri Lanka Ranil Wickremesinghe

The two leaders expressed their pleasure at the good multi-faceted traditional friendship and cooperative relations between Vietnam and Sri Lanka over the past 47 years since the two nations established the diplomatic ties in 1970.
 
At the meeting, the two prime ministers affirmed Vietnam and Sri Lanka will continue strengthening security & defense cooperation, sharing  information and experience for implementing the law, mutual collaboration for anti- international crime struggle, overcoming the consequences of post-war and peacekeeping activities of the United Nations.

Besides that, both two sides unanimously agreed in raising bilateral commercial turnover to US$ 1 billion, asking agencies of Vietnam and Sri Lanka to quickly check and propose practical measures in boosting and deepening current cooperative sectors and actively implementing an agreement for the encouragement and protection of investment etc etc…
 
The leaders pledged to continue giving priorities and creating the best favorable cooperative conditions in energy, travel, education, cultural exchange, aviation, human resources development and others fields.
 
They also talked about regional and international issues, agreed to closely collaborate at regional and international forums, verify active roles as well as contribute to cooperation and connection of ASEAN and the South Asia Association for Regional Cooperation (SAARC) for peace, stability, cooperation and development in Asia.
 
After the talking, the prime ministers witnessed a signing ceremony of two cooperation agreements, including a cooperative plan about agricultural development in 2017- 2019 and an educational cooperation agreement in the term of 2017- 2021.
On the same day, Prime Minister Ranil Wickremesinghe paid a courtesy greeting to General Secretary of the Communist Party of Vietnam Nguyen Phu Trong, and met State President of Vietnam Tran Dai Quang and Vietnam National Assembly Chairwoman Nguyen Thi Kim Ngan.