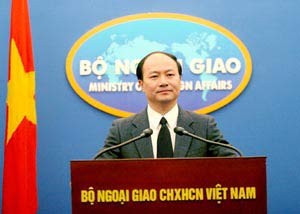 Foreign Ministry spokesman Le Dung
Viet Nam supports the international community's efforts to stabilize world food prices, Foreign Ministry spokesman Le Dung said at a regular press conference in Ha Noi yesterday.
The spokesman told reporters that the country was willing to join efforts to ensure the interests of farmers, rice exporters and consumers, especially those in developing countries.
Speaking about a regional initiative to establish an Organization of Rice Export Countries (OREC) among Viet Nam, Thailand, Myanmar, Laos and Cambodia, he said Ha Noi pursued a food policy that meets the goal of ensuring domestic interests and fulfilling commitments to the world community.
The spokesperson said Ha Noi has already established bilateral rice export cooperation with Bangkok and joined a rice export cooperation mechanism with Thailand, India, China and Pakistan.
Countries in the Ayayewady-Chao Phraya-Mekong Economic Cooperation Strategy (ACMECS) framework are also discussing a rice cooperation mechanism that will concentrate on exchanging information and providing technical assistance, he said.
Mr. Dung said Thai Foreign Minister Noppadon Pattama on May 6 withdrew his country's initiative to establish OREC.