The Ministry of Agriculture and Rural Development has asked the Prime Minister for approval to set up a marine ranger force, to protect Vietnamese fishermen and their boats on Vietnam's territorial waters.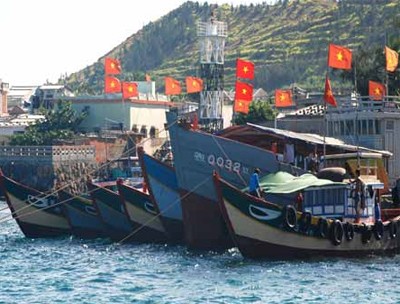 Fishing boats anchored at a port in the central province of Quang Ngai (File)
The marine ranger force will be responsible for protecting the country's aqua resources and ensuring the safety of fishermen and their boats operating on the country's territorial waters.

The force will be set up at two levels of central and local levels.

The project will cost nearly VND2.1trillion (US$102.14 million) for building patrol boats and other equipment along 28 coastal provinces.

According to the ministry, violations relating to aqua resources on the country's territorial waters have increased recently. Hundreds of foreign boats have illegally entered Vietnam's territorial waters, more frequently of late, to catch seafood.

In addition, arrests of Vietnamese fishermen by other countries have seen a rise recently.

1,200 Vietnamese fishing boats and 7,000 fishermen have been arrested by other countries since 2006.