Viet Nam is widening its approaches to dealing with poverty, the Minister of Labour, Invalids and Social Affairs (MOLISA,) Pham Thi Hai Chuyen, said yesterday.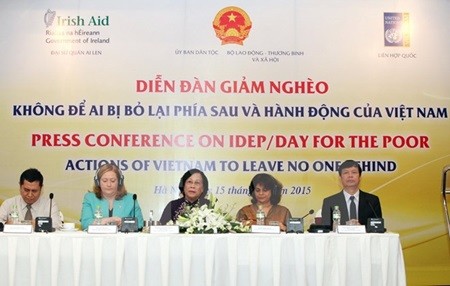 Viet Nam is widening its approaches to dealing with poverty. — VNA/VNS Photo
At a conference titled Action of Viet Nam to Leave No One Behind, the minister said that over the next five years, poverty would not only be based on income.
Chuyen said identifying poor households would also be based on good quality social services, healthcare, education and such basics as power and water.
She said poor people would also be given more power in making decisions and policies..
"Future support policies for the poor will encourage them to fight against poverty by themselves, offering loans instead of grants in an effort to make them more responsible," she said. It was felt that grants did not encourage people to spend money wisely, whereas if given loans, they had an obligation to make better decisions - and to repay the money.
Last month, the Prime Minister Nguyen Tan Dung approved a master plan on moving from single-dimensional poverty measurement to a multidimensional approach.
UN Resident Co-ordinator Pratibha Mehta said that multidimensional poverty measurement was a huge step in helping ethnic groups.
She said many Vietnamese still lived close to the poverty line and any natural disaster, economic downturn or health problems could quickly push them back into poverty.
This called for serious reforms of the social protection system, which now focused on contributory pensions for regular workers.
However, while there was help for the poorest, there were also many people hovering in between who were not resilient to shocks.
The Irish Ambassador, Cait Moran, said vulnerable groups could still find it difficult to access good nutrition, education, clean water and sanitation.
The conference, organised by MOLISA, the United Nations Development Programme (UNDP), the Council for Ethnic Minority Affairs and the Irish Embassy also marked International Day for the Eradication of Poverty and Viet Nam's Day for the Poor.
Viet Nam's official poverty rate felt from 58 per cent in 1993 to 5.97 per cent last year.