Vietnam will achieve its Millennium Development Goals (MDGs) on a national scale, according to a seminar in Hanoi on April 2 on ideas for the country's draft report on MDG implementation in 2010.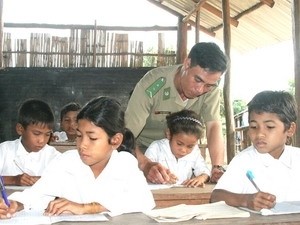 Boosting access to education is a development goal in Vietnam (Photo: Vietnam News Agency)
Deputy Minister of Planning and Investment Cao Viet Sinh said that Vietnam has gained several important achievements in implementing the MDGs, especially in poverty reduction, education and training and gender equality.
The country has also seen good results in sustainable development and the establishment of global partnerships for development. It has implemented the open-door policy and actively integrated into the world and regional economies.
At the seminar, UN Development Program (UNDP) Director in Vietnam Setsuko Yamazaki spoke highly of Vietnam's achievements in implementing the MDGs and affirmed that the UNDP will continue to support Vietnam in fulfilling its commitments.
The Draft Report on MDGs for 2010 pointed out challenges Vietnam will face in the coming time, such as the continuing impact of the global economic crisis, food and energy security and climate change.