A Vietnamese business forum in Europe, the fourth of its kind, will be held in Berlin, Germany on September 11-13, said an official from the Vietnamese Embassy in Germany.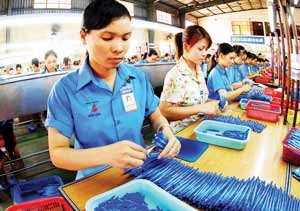 Thien Long Company workers make pens in Ho Chi Minh City (Photo: SGGP)
In preparation for the event, 30 businesses representing thousands of Vietnamese businesses in Germany were convened in Berlin on Aug. 2 by the commercial counselor in Germany, Nguyen Minh Dung, who is also representatives of the Association of Vietnamese Businesses in Germany and the forum's organizing board.
At the meeting, Dung said the event is expected to draw the participation of nearly 350 Vietnamese businesses from Poland, Hungary, the Czech Republic, Russia and Ukraine, 20 commercial counselors and some ambassadors in European countries as well as tens of businesses from Vietnam.
Addressing the meeting, Ambassador to Germany Do Hoa Binh stressed the significance of the forum in the context of the global economic crisis.
He said the event will provide a chance for Vietnamese businesses to exchange experience, expand cooperation and give each other mutual assistance for further development.
It will help build up the position for the Vietnamese business circle in Europe and encourage them to increase investment in the homeland, he said.
The ambassador also said the forum will be one of major activities to mark the 35th anniversary of the Vietnam-Germany relations and the Year of Vietnam in Germany in 2010.
He called on Vietnamese businesses in Germany to actively support the Embassy's diplomatic activities in order to strengthen the cooperation between the two countries.