A number of targets were set in the 2013-2020 National Program on Tourism which was approved by the Prime Minister on Feb 19.
As per the program, Vietnam's tourism sector plans will earn US$10-11 billion from 7-7.5 million international visitors and 36-37 million domestic tourists by 2015 and US$18-19 billion from 10-10.5 million foreign visitors and 47-48 million domestic tourists by 2020.
The PM instructed that the industry must improve the quality of tourism products and services and build strong trademarks for the tourism sector to become the spearhead sector in the future.
The Ministry of Culture, Sports and Tourism has developed a development strategy for tourism in Vietnam until 2020, with a vision for 2030 to develop both domestic and international tourism and fully tap the potential of human resources and the environment, and associate tourism with national defense and security.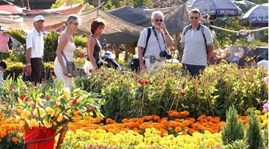 Foreign tourists in VN
According to the strategy, over the next ten years, we will continue to train human resources to develop tourism into an economic spearhead, which will have a positive impact on other economic sectors
To fulfill the targets, the tourism sector has proposed six groups of measures. It is important to attract human resources for investment and tourism, develop unique, highly competitive products, and build solid trademarks. It is also necessary to promote tourism activities and develop the country's key tourism zones.
The Government realizes that it is important to create new tourism products and emphasizes the need for cooperation among tourism companies. It is important to develop good trademarks for our natural and cultural heritage sites in order to promote tourist services in a professional manner
The Government is fully aware of the role of trademarks in competition and international integration. Vietnam has advantages in sea, cultural and eco-tourism and agreed to build strong trademarks at national, local and business levels. The program will also focus on promoting Vietnam's image as a beautiful, friendly, safe and hospitable destinations
One of the main shortcomings of tourism companies in Vietnam is the lack of cooperation. Tourism companies have not worked together to promote tourist activities and create unique products. It is obvious that cooperation among companies should ensure healthy competition. The role of tourism associations is very important, and it needs stronger support from the State.