Vietnamese President Nguyen Minh Triet warmly welcomed Denmark's Queen Margrethe II and her spouse, Prince Consort Henrik, at the Presidential Palace, Hanoi, Monday.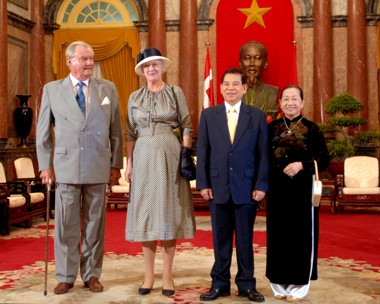 Vietnam's President Nguyen Minh Triet (2rd R), his wife Tran Thi Kim Chi ( R) pose for a photo with visiting Denmark's Queen Margrethe (2nd L) and her husband Prince Consort Henrik (L) during the welcome ceremony at the Presidential Palace in Hanoi, Nov. 2, 2009.
Before the official welcome ceremony, Queen Margrethe II laid a wreath at the Martyr Memorial and paid tribute to President Ho Chi Minh at his mausoleum.
Meeting with Queen Margrethe, President Triet affirmed the Danish Royal visit brought friendship and bilateral cooperation to the Vietnamese State and its people.
The President expressed gratitude to Denmark for its support in overseas development aid, anti-poverty drive and development of infrastructure in Vietnam.
Mr. Triet also appreciated Denmark's achievements in building and developing the country under the Queen's reign, becoming an industrialized nation and an important voice in international affairs.
"Vietnam desires to boost ties with Denmark, and the Queen's visit will help raise the bilateral relationship," said the president.
"Vietnam wants Danish businesses to further invest in the country because it is encouraging foreign investment," he said.
Mr Triet added, "Vietnam wants to cooperate with all countries in the world, especially with Denmark, who is a traditional friend of the Vietnamese people."
On her part, Queen Margrethe II said that this was the first time that all of Denmark's royal family had visited Vietnam together.
They had much enjoyed the panorama in Vietnam, she said.
"This is a special occasion, not only for me and the Prince. We appreciate the visit, hence, our delegation includes many representatives, especially a large group of businesses," she added.
During the morning, Queen Margrethe also met with the Chairman of the National Assembly, Nguyen Phu Trong.
At the meeting, the Chairman said that the visit would open many opportunities for boosting bilateral ties.
Related Articles: