Vice State President Nguyen Thi Doan has expressed her belief that with efforts by states and people, the friendship between Vietnam and Cambodia would develop firmly.
The Vice State President expressed her aspiration while receiving a visiting delegation of Cambodian citizens headed by Khun Chhy, former Cambodian Transport Minister, in Hanoi on Mar. 29.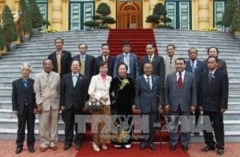 Vice President Nguyen Thi Doan meets delegation of Cambodian citizens
Stressing the traditional friendship and mutual assistance during the past struggle for national liberation and the current national construction, Doan confirmed that the fine relations between the two countries resulted from the efforts and devotion of generations of Vietnamese and Cambodians and there was a responsibility in educating young people to continue these precious traditions.
Khun Chhy appreciated assistance from the Vietnamese people to help the Cambodian people escape from genocide and said Cambodia would never forget the help and devotion of the Vietnamese volunteer soldiers in the past.
He informed the hosts that during the visit the delegation met Vietnamese volunteer soldiers and experts, who stood side by side with the Cambodian people during their past difficulties.
The same day, the Cambodian delegation was received by Vu Xuan Hong, President of the Vietnam Union of Friendship Organizations, who expressed his hope that the visit would contribute to boosting the traditional friendship between the two people.
The Cambodian delegation also paid a tribute to President Ho Chi Minh at his mausoleum.