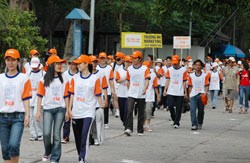 Around 1,000 people paticipate in the charity program Walking around the world with TNT 2006 (Photo: VD)
Around 1,000 people took part in a charity program called "Walking around the world with TNT 2006" on May 21 in 23-9 Park.
The march marked the third consecutive year of co-operation between the United Nations' World Food Program (WFP) and TNT Vietrans Express Worldwide (Vietnam) Ltd., a global provider of mail, express and logistics services, in an endeavor to make life better and eradicate starvation from children worldwide.
Meanwhile, the same activities were also held at 325 other places in 100 countries with the support of around 750,000 workers, partners, families and friends of WFP and TNT.
Over VND50 million collected will be donated to the Fund for the Poor of Ho Chi Minh City Fatherland Front Committee and Tam Binh Children Sponsor Center, a school for orphans and children with HIV/AIDS.
It is the second time such activity has been held in Viet Nam.