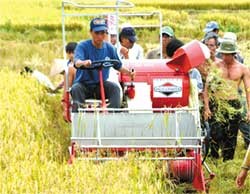 Many farmers have received loans from Agribank to develop their production.
A conference of the Viet Nam Agriculture and Rural Development Bank (Agribank) to review its 15-year loan provision for production development was recently held in Ha Noi on April 7. Deputy Prime Minister Vu Khoan attended the meeting.
After 15 years, the total loan capital for family-based production of the Agribank has been up to VND549 trillion. Yearly, the bank gives loans to 4-5 million households, mostly living in rural areas, to help them develop production.
To date, Agribank has over VND97 trillion in assets owned by 9.4 million farmer households, accounting for over 70% of the total farmer households nationwide.
"If every VND2 million in the loan fund can help create one job for the unemployed, it is easy to calculate that during the past 15 years, Agribank has offered 275 million jobs to the Vietnamese people," said Le Van So, General Director of Agribank.