The Prime Minister has asked the Ministry of Agriculture and Rural Development (MARD) to submit a project to build a model rice storage network in March.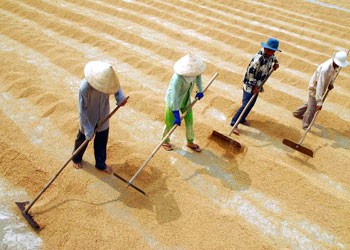 A good crop of rice in Mekong Delta
To enhance the quality of rice and competition, as well as ensuring capacity for exports, new storage will be built and will hold and maintain the quality of four million tons of rice.
The total costs are estimated to be around VND7 billion ($403,000).
The project has two aims: repair and upgrade old the storage network and construct a new one network.
The new rice storage focuses on ports and cities with good road infrastructure, such as Long An, Dong Thap, An Giang, Can Tho and Ho Chi Minh City.
The project is expected to be completed during the next three years, with the new storage will having a capacity of 2.8 million tons of rice.
According to MARD, yearly output of rice rose to 38 million tons, 20 million tons were from the Mekong Delta.
Vietnam exported 4.7 million tons of rice, earning $2.9 billion in 2008.