The People's Committee of the central province of Thanh Hoa has approved a project to research and excavate the Ho Dynasty Citadel site, at a cost of around VND90,058 billion from now until 2020.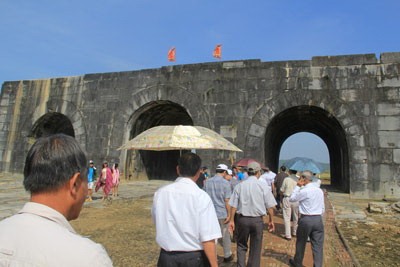 Ho Dynasty Citadel has become one of the most favorite destinations for local and foreign visitors (Photo:SGGP)
The Center for Preservation of Ho Dynasty Citadel Heritage will be the main investor to research the relics covering an area of about 56,000 square meters.
The excavation will reveal material and cultural vestige of Ho Dynasty Citadel which was buried underground for hundreds of years; raise the heritage site value, promote tourism, and provide historical documentation for historical and educational purposes.
The Ho Dynasty Citadel (also known as the Tay Do, the An Ton, the Tay Kinh or the Tay Giai citadel) was the capital of Dai Ngu (the country name of Vietnam during the Ho Dynasty) from 1397 to 1407.
It was built by Ho Quy Ly in 1397 in only three months, in Vinh Tien and Vinh Long Communes of Vinh Loc District in Thanh Hoa Province. The citadel includes palaces, bamboo screen hedges and a moat built with huge stone slabs, still in good state despite weathering for 600 years.
The Citadel also has altars, marble-paved roads connecting different palaces, ancient villages and mountainous river scenery that have been relatively well preserved.
Ho Dynasty Citadel is under the management of Thanh Hoa Relics and Landscape Management Board. The relics of the Ho citadel have been classified as National relics since 28 April 1962.
UNESCO has recognized the Ho Dynasty Citadel in the central province of Thanh Hoa as a World Cultural Heritage Site in an official announcement made at the 35th Session of the World Heritage Committee in Paris in June 2011.