The Vietnam Posts and Telecommunications Group (VNPT) announced that 13 localities in the country were changed telephone area codes in the first phase on February 11.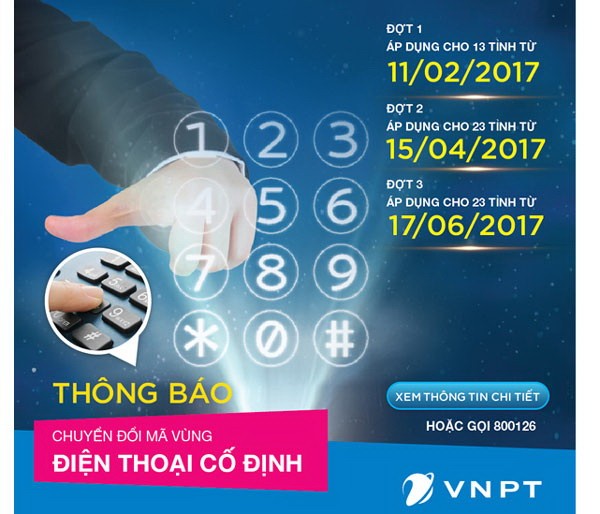 Vietnam plans to change its landlide telephone area codes in 2017
At present, inter-information and communication of 13 cities and provinces are smooth via new fixed- line phone numbers. Additionally, switchboard systems were also installed pronounciation to announce new phone code for each province, respond standardization between old and new fixed- line phone area codes.
To well prepare for the change, VNPT actively collaborated with 13 other information & communications such as Viettel, VNS, FPT Telecom, SPT etc etc…
The VNPT will continue applying the second and third phase's landlide telephone area code changes for 46 provinces and cities nationwide on April 15 and June 17 respectively.
13 provinces were changed telephone area codes in the first phase, as follows:
No. Province Old area code New area code
1 Son La 22 212
2 Lai Chau 231 213
3 Lao Cai 20 214
4 Dien Bien 230 215
5 Yen Bai 29 216
6 Quang Binh 52 232
7 Quang Tri 53 233
8 Thua Thien - Hue 54 234
9 Quang Nam 510 235
10 Da Nang 511 236
11 Thanh Hoa 37 237
12 Nghe An 38 238
13 Ha Tinh 39 239