The Vietnam Football Talent Promotion Fund (PVF) has officially started the country's first three month football training course for young players at HCMC's Thanh Long Sports and Entertainment Center.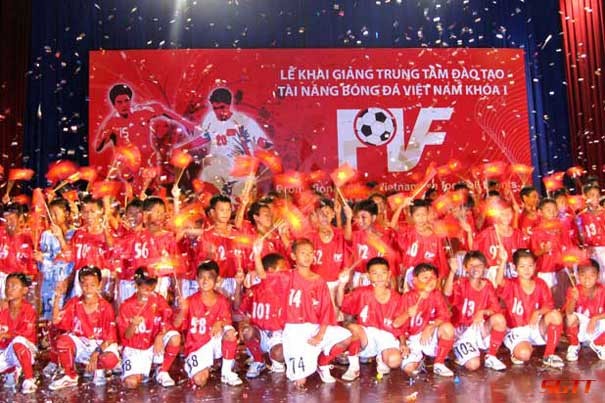 At the ceremony to launch the first training course
After more than two months selecting thousands of young boys from 21 provinces and cities nationwide, PVF has chosen some 120 boys between the ages of ten and 12 years old for the first football class.

PVF will then whittle this down to the 50 most talented, who will receive instruction on a seven-year training program.

The fund will not just teach footballing skills, but also provide the best conditions to ensure a well-rounded education for students.
The target is to provide professionally trained young players who are good sportsmen and knowledgeable about literature, said PVF Chairman Le Khac Hiep.
The students will be trained in modern facilities using the latest training techniques and teaching materials, using coaches from top football training centers in the country and from Europe.
In addition to learning football skills, selected child players will pursue education at good schools and learn English to become international players.
To participate in the training course, parents have to sign a contract with PVF, including pledge not to quit the course except for special reasons.
After graduation, students can further develop their career by being placed in several national and international teams through exclusive contracts with PVF or partner organizations.
The players and their families will receive ten percent of the transfer fee. PVF will use the remaining fee to train the next generation of players.