Ngo Tien Doan, the first Vietnamese to win an international beauty competition, took one day to celebrate his victory with his family before sharing the ups and downs of the competition with SGGP readers.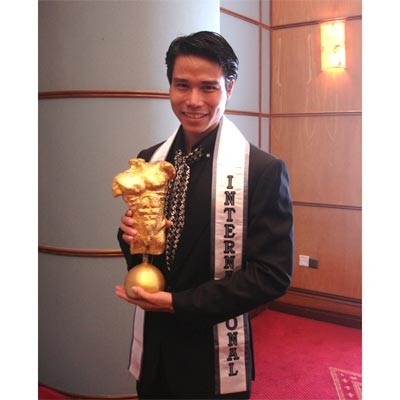 Tien Doan poses with his Mister International 2008 cup at New World Hotel Saigon in district 1 (Photo: Truong Son)

We heard the Mister International competition organizer sent you a personal invitation. So, did you receive any special treatment? Did you go to Taiwan thinking you would win?
No, I did not notice any partiality towards me during the competition. We were all treated the same way. There wasn't an adjudication of contestants every day so we were all trying our best in every event. You can imagine that if at the end of the day the jury says you are the best, maybe tomorrow you won't try so hard. It's the same as if someone is criticized by the jury, I believe he would lose some of his passion and feel a little pessimistic.  
So why do you think they chose you and sent you the invitation?
I  believe they were impressed by my performance at the Manhunt 2007, especially my achievement of the "Mr. Physique" award in this international contest. I also think they had heard of the reputation of Venus Fashion and directed the modeling agency to be my sponsor.  
SGGP: In your opinion, what are the differences between the criteria in the Manhunt International and the criteria in the Mister International competition?
Well, Manhunt International is an international male beauty pageant mostly for models only while Mister International is a bigger beauty pageant open to all men. Therefore, there are various differences. In Manhunt International, the jury mostly focuses on three criteria: the performing skills on stage, the performing skills in front of the camera and fashion sense. But, for Mister International, these criteria were not enough. The jury of Mister International requires contestants to improve themselves – on the outside and inside. That's why the contestants live and work together for two weeks, to allow the jury to get a clear picture of the attitude of each contestant. 
Oh I see. Now you mention inner beauty. How do you define it?
Hmm, I think there are various definitions of this beauty and it's hard to explain it in one sentence. I separate inner beauty into two parts: beauty of the soul and beauty of the mind. The beauty of soul is shown in the way contestants communicate with each other and with the organizers, while the other beauty can be judged by the way each contestant expresses his ideas and opinions. In the competition, there were contestants with very different careers and levels of knowledge. For example, some contestants were businessmen and some could speak five languages.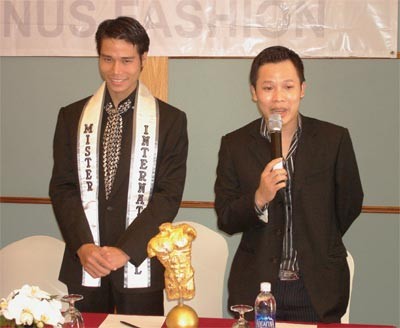 Director of Venus Fashion, Mr. Nguyen Khac Tiep compliments Tien Doan at the press conference (Photo: Truong Son)

How can you evaluate the quality of the Mister International pageant?
I think it's the toughest contest I've ever entered. During the contest, contestants had to try their best in every event. We had to wake up early every morning and we got to bed very late. The organizers wanted to test our endurance. Well, after a long hard day, some people easily lose control and fall into a bad mood. The organizers kept their eyes on us, on the way that we treated each other every day, both in our free time and during the competitions. They wanted to find the contestant who could overcome all difficulties and retain a good attitude.  
This is the first time a Vietnamese contestant has reached the highest honor in an international beauty pageant. So, how did you do it? What were the main factors that helped you reach it?
Just like my two colleagues, Quang Hoa and Van Thinh, when we compete in an international beauty pageant, we always want to let everyone know of our love of Vietnam. And I believe that love encourages us to try harder to strive to win.  
Another point we want to talk about is the traditional costume you wore in the contest. It received a lot of praise, not only from other contestants but also from the jury. And you won the National Costume Award. Would you mind sharing with us a little about the inspiration for the costume and the process of making it?

When I received the invitation from the organizer, Venus Fashion chose Si Hoang Fashion to make my national costume for the contest. However, I changed that decision. I thought that since I had six months to prepare I could make it myself.
In the beginning, I wanted to make a costume with patterns that showed the beauty of our ethnic minorities. I did a lot of research – from books and on the internet - into the symbols used in my costume.  
So did you make it completely on your own? Did anyone help?
Oh, I did not say that. For my costume, the symbols were mostly embroidered and unfortunately I could not do that (laughs). I had someone do it for me. I also had a sister (not my real sister) who advised me how to make it. That was Tuyet Nhung from the Cuu Long Studio in Can Tho City.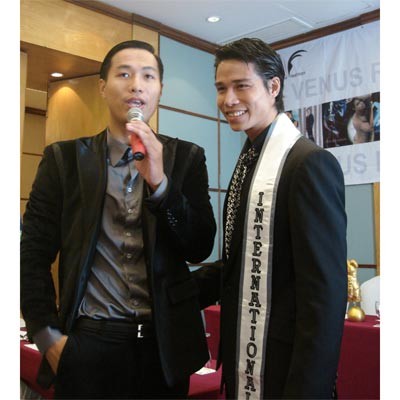 Vietnamese model Quang Hoa comes to congratulate Tien Doan (Photo: Truong Son)

According to the contest rules, after crowning, you will work for one year as the representative of Mister International in Singapore. Can you summarize your activities in Singapore next year?

I have a number of responsibilities - promoting the traditional culture and beauty of Vietnam, promoting Mister International, carrying out charity activities and also doing some modeling work. I will be visiting many places, not just Singapore.  
What differences have you noticed in your life before and after being crowned Mister International 2008?
The first and the major change is… that I always have to wear the sash to say I'm Mister International 2008 (laughs). I now feel a little bit nervous about my new responsibility to keep my image perfect all time (sighs and laughs). 
Ngo Tien Doan took out the 2008 Mister International competition in Chinese Taiwan on November 24, beating 30 other entrants from around the world.
Related articles:

Vietnamese model wins Mister International Pageant
Tien Doan to Represent Viet Nam Vie at Mister International