The Ministry of Transport on Saturday organized a ceremony to open to traffic a further section of Hanoi-Hai Phong Highway stretching from Hung Yen Province to Hai Phong City.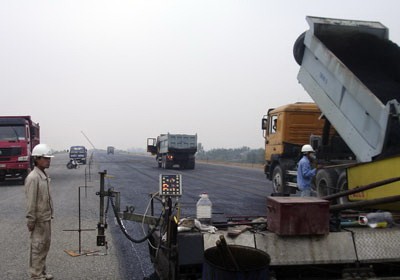 On the construction site of Hanoi-Hai Phong Highway (Photo: SGGP)
So far, 75 out of 105 kilometers of the highway opened for service with six traffic lanes and two shoulders. Permissible speed is 120 kilometers an hour and standard toll rate is VND1,500 per vehicle per kilometer. 
The lowest toll rate is VND110,000 to cars and minibuses of less than 12 seats, trucks of below two tons and public buses. The highest toll fee hits VND600,000 to trucks of from 18 tons and higher and 40 feet container trucks. 
Stating at the ceremony, Deputy Prime Minister Hoang Trung Hai appreciated efforts by the Ministry of Transport, local authorities, contractors and investors in building the highway on schedule as per instruction by the Prime Minister. 
He proposed the Ministry of Transport, the Ministry of Public Security and provincial and city people's committees to work together with investors to tighten control over overloaded trucks and ensure traffic safety along the highway. 
The Hanoi-Hai Phong Highway started construction in May, 2008 and is expected to be done by October this year. Total investment capital is estimated at VND45,487 billion (US$2,022 million). 
After being built, it will become the most modern highway in Vietnam contributing to reduction of traffic jam and accidents along Highway 5.