The progress of urban train projects have not met public expectation, said Deputy Prime Minister Hoang Trung Hai during a meeting on Tuesday to review the progress of urban train projects in Ha Noi and HCM City.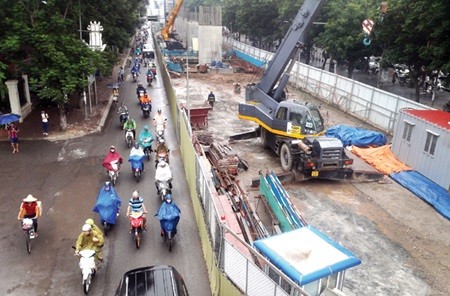 The construction of the Ha Noi Urban Railway Project in Ha Noi's Cau Dien is in progress. The urban railway projects in big cities are lagging behind schedule. (Photo: VNS)
The deputy PM said there were a number of factors that contributed to the sluggish progress including slow land-site clearance, investors and project management boards' limited capability and a lack of co-operation between ministries, Government agencies and local authorities.
HCM City's metro Line 1 Ben Thanh-Suoi Tien, which started in August 2012, is estimated to have fallen behind schedule about two years. The date of completion is currently set for 2020.
HCM City's metro Line 2 Ben Thanh-Tham Luong, which began earlier this year in January was already two years behind schedule and is now set to be completed in 2019 after several changes were made to accommodate junctions with other metro lines such as Line 1, 3b,5 and 6.
Similar delays were also seen with the Ha Noi's Cat Linh-Ha Dong urban train project. The project, which was started in 2011, has been delayed a total of three times with the current date of completion pushed to the end of June 2016.
Major adjustments were made to these projects' investment cost. The Line 1 metro project's investment cost more than doubled from US$1.09 billion in 2007 when it was approved to $2.49 billion in September 2011. The Line 2 project's investment cost also increased from $1.375 billion to more than $2 billion.
Most notable was the capital's infamous urban train project with the China Railway Sixth Group as EPC contractor. The investment cost for this project increased from $552 million in 2008 to $892 million in 2014 and suffered numerous delays and several deadly accidents.
Deputy PM Hai urged Ha Noi and HCM City People's Committees to speed up land-site clearance and the Ministry and Transport to improve project management capacity as well as design.
The deputy PM said there was a need for special mechanisms that delegate decision making power to avoid unnecessary delays and bottlenecks.
In addition, the transport ministry was ordered to step up efforts on the preparation of urban train operations, regulation standards, technical maintenance as well as traffic and worker safety.