US President George W. Bush on Monday wrapped up his Viet Nam visit in Ho Chi Minh City, the nation's commercial hub.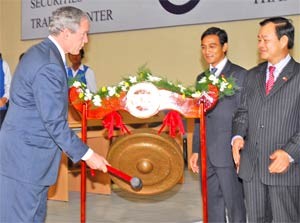 President Bush hits the gong to open a trading session on the local bourse Monday. (Photo: SGGP)
After attending the 14th APEC Economic Leaders' Meeting over the weekend in Hanoi, the US President called in at Ho Chi Minh City's stock exchange where he struck the opening gong and talked to business leaders.
After meeting with the business executives, Mr. Bush said he was very impressed with Vietnamese entrepreneurs' business doing attitude and business opportunities in the country, one of Asia's fastest growing economies.
American and Vietnamese business leaders in the roundtable meeting were Mr. Walter Blocker, Gannon Vietnam director and chairman of AmCham in HCM City; Mr. Matthew Daley, chairman of the US-ASEAN Business Council, Intel Products Vietnam director Than Trong Phuc; Russin & Vecchi Vietnam director Sesto Vecchi; Motorola Vietnam director Robert Knapp; FedEx Vietnam director Binh Nguyen; Nguyen Quoc Khanh, director of interior decoration company IA; Nguyen Thi Mai Thanh, chairwoman of REE Corp.; Dang Thanh Tam, general director of Tan Tao Industrial Park Co., Le Thi Phuong Thuy, general director of Tri Viet Media, and FPT chairman Truong Gia Binh. US Ambassador Michael Marine also attended the meeting.
After the meeting, Mr. Vecchi quoted President Bush as telling the business leaders that if he was still young and wanted to earn money, he would come to Ho Chi Minh City to do business.
Intel Products Vietnam director Phuc said that Mr. Bush paid close attention to the Vietnamese economy's strengths because it is very dynamic and potential. However, Viet Nam needs to keep improving its legal system and protect intellectual property rights.
The business executives were concerned about difficult visa application to come to the US after September 11, 2001.
Mr. Dang Thanh Tam from Tan Tao Industrial Park Co. said to Mr. Bush that Vietnamese companies want US companies to invest strongly in Viet Nam, "He told us that he hoped his visit to the stock market would stir up more American interest in Vietnam's financial sector," Tam said.
The US President told the business leaders that he hoped the House would soon vote the bill on permanent normal trade relations with Viet Nam.
AmCham chairman Blocker petitioned President Bush to help facilitate visa procedures for Vietnamese students to come to study in the US.
After the business meeting Mr. Bush visited the Pasteur Institute, a facility that conducts research in preventive medicine and works to control the spread of infectious diseases. He congratulated Vietnamese health officials on their efforts to combat bird flu and fight HIV/AIDS. The President pledged strong support for Viet Nam in the two projects fighting bird flu and AIDS.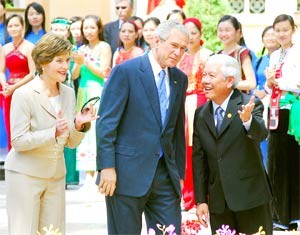 Ho Chi Minh City Chairman Le Hoang Quan (R) receives President George W. Bush and first lady Laura at the History Museum on Monday. (Photo: SGGP)
The president's and the first lady's last stop in Viet Nam was a tour of the History Museum, where they were received by Ho Chi Minh City Chairman Le Hoang Quan.
Related article
Bush Opens Day's Trading at HCM City Stock Exchange