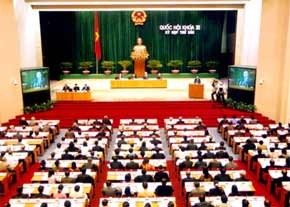 The Vietnamese National Assembly during a sitting
The National Assembly (NA) Office in Ha Noi will officially launch volume one of the series recorded of all NA documents on May 11.
The volume includes all main documents of the first National Congress in Tan Trao, the northern province of Cao Bang, and the first NA tenure from 1946 to 1960. It also includes documents by the Party and Nguyen Ai Quoc, who became President Ho Chi Minh later, about the first National Congress.
Among the first NA tenure's documents are the two constitutions of 1954 and 1959, major laws like the Law on Farmland Reforms, Law on Rights to Establish Associations, Law on Freedom for Meetings, Journalism Law, Labor Union Law, Marriage and Family Law, and Law on Voting National Assembly Deputies.