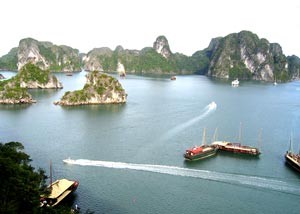 A view of Ha Long Bay
A summer camp with a purpose, "Volunteer for the World Heritage", was kicked off on August 21 in Ha Long City of Quang Ninh Province.
The effort, organised by the Solidarités Jeunesses Vietnam organization in collaboration with the Ha Long Bay Management Committee, engages young volunteers aged between 16 and 30 to help raise awareness of the local people and tourists about environmental protection as well as promote the image of the bay.
Activities during the one-week camp include introducing the Patrimonito image – a cartoon that symbolizes the voluntary youngsters' efforts for environmental protection - to local residents and tourists, launching environmental protection campaigns at local schools, cleaning beaches and joining fact-finding trips to coal mines to understand more about ways to protect the environment.
The community-based project aims to raise awareness on Ha Long Bay – a World Heritage natural wonder--among international and local volunteers as well as local people, especially youth and tourists.
It is also expected to encourage active contributions by young people to search for sustainable solutions to protect the environment and natural resources as well as the cultural heritage.
Ha Long Bay, which was twice recognized by the UNESCO for its landscapes and geological values, has unexpectedly risen from 12th to 4th position among 28 candidates in the voting for the World's Seven New Natural Wonders.
The voting campaign is still ongoing, and the winners will be unveiled in 2011.