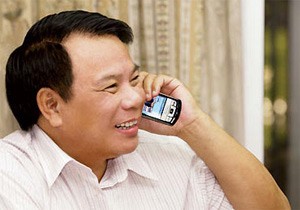 Dr. Thai Minh Tan
Dr. Thai Minh Tan, Chairman of Board and CEO of the Viet Nam Multimedia Corporation (VTC), was awarded the prestigious title "Labor Hero" of the renovation period.
Dr. Thai Minh Tan received the title for his creative contributions and achievements in the multimedia industry from 1996 to 2005.
Previously, the VTC was awarded the title called "Hero Unit" for its successes in the entertainment industry.
By 2010, the VTC will have become one among the strong TV stations in Viet Nam, providing a plethora of services in multiple forms of information processing like television, telecommunication, internet and digital media.
It is said that the VTC is in the preparation for broadcast live that will be run in northern provinces of Ha Noi, Hai Phong, Quang Ninh, and in the south of Ho Chi Minh City on the occasion of the APEC summit scheduled for mid-November.