The chairman of the Hue People's Committee wants the city's residents to lend their cars to the escorts of 306 delegates attending the 27th Association of International Mayors of French-speaking Countries (Association Internationale des Maires Francophonies AIMF) conference.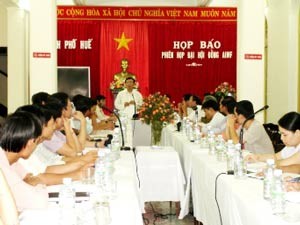 The press briefing for the AIMF conference, which will take place in Hue from October 24 to 26

Mr. Nguyen Van Cao reckons many people will be happy to help out international figures like the mayor of Paris by handing over their cars for the duration of the conference, which runs from October 24 to 26.

The delegates from 156 cities in 46 countries and territories will discuss two principal topics: "Good Local Governorship" and "International Financing and Cities, Inheritance and Local Development".

During the event, Hue will break ground for the Thuan Loc Market project and a citywide sewage system, which the AIMF is sponsoring to the tune of EUR250,000.

Established in 1979 at the urging of Jacques Chirac, who was mayor of Paris at the time, the AIMF gathers for its annual conference in a different member city each year.

This will be the first AIMF meeting in Viet Nam and the second in Indochina. The Cambodian capital Phnom Penh hosted it three years ago.