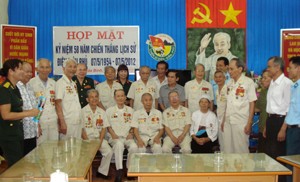 War veterans of Dien Bien Phu take a photo at the meeting
The People's Committee of Dien Bien District in the northern province of Dien Bien held a meeting on May 7 to celebrate the 58th anniversary of the victory of Dien Bien Phu and pay respects to the war veterans.
In his speech, Le Trong Khoi, Secretary of the District Party Committee, recalled major events leading to the famous and shocking victory of Dien Bien Phu on May 7, 1954.
To make Dien Bien Phu the strongest base in Indochina, the French imperialists deployed 16,200 soldiers in 21 battalions; 17 battalions of infantry, 3 battalions of artillery, one battalion of combat engineers, one company of tanks, one company of air force, one company of air transport fleet; into 3 areas consisting of 8 groups and 49 outposts.
From March 13-17, 1954, the Vietnamese soldiers, otherwise known as Viet Minh, launched the first attack to destroy Him Lam and Doc Lap outposts, which stood on the way to Muong Thanh Centre, and officially tore down Ban Keo Fortification to make way in the north for Dien Bien Phu Base.
From March 30 to April 30, the Viet Minh launched the second attack on various outposts in the east side of the Central Area and took control of Muong Thanh Airport. After a long and bloody battle the Vietnamese gradually won back their ground and seized the initiative, with the French soldiers left extremely discouraged and tired.
From May 1-7, the Vietnamese troops launched their last attack to completely destroy their enemy at their Base. In the evening of May 6, they launched a massive assault on A1 Hill, mostly with heavy cannons, to wipe out the French.
Viet Minh troops plant their flag over a captured French position
At 5.30pm on May 7, they took control of the enemy headquarters and captured Colonel Christian de Castries as well as his followers. By nightfall, all French central positions had been captured. The Viet Minh continued their assault towards the south, forcing the remaining enemy to escape to Laos.
The battle ended with victory for the Vietnamese. With bravery and strong will, they did their utmost to overcome any obstacles and fulfill the job, making this victory one of the proudest and most renowned events in the process to achieve full independence.
The Dien Bien Phu victory was also a knockdown for the French and a great encouragement for the international liberation movement happening at that moment in many colonies.
Representatives of the Provincial Party Committee, the Provincial People's Committee, the Vietnam Fatherland Front in Dien Bien Province, related agencies, and war veterans of the Dien Bien Phu Battle, as well as people from ethnic groups participated in the meeting.
In related news, the Association of Dien Bien Phu Soldiers in the central city of Hue held a small gathering on May 7 to recall past events and memories of the Dien Bien Phu Battle.