Sitting by a camp fire in Lo Go Xa Mat Jungle in the southern province of Tay Ninh, which once was the base of Central Propaganda in days gone by, veterans welcome Tet with tea poured from flasks in stainless steel mugs like in war time, remembering Tet Lunar New Year in the old days when they were young soldiers.
During the days of war, tea was a precious commodity, regardless of its variety or flavor.  People shouted with glee when hearing the cry of tea being served, even as they suffered painful bouts of malaria, or sudden bombing or the bitter cold in the jungles of South Vietnam.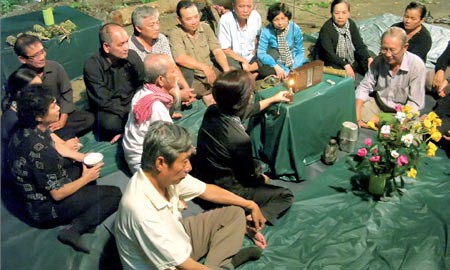 War veterans return to the jungle which served as their base in the southern province of Tay Ninh, to reminiscence old memories (Photo: SGGP)
During war time each military unit had "an expert" who brewed tea with simple and make shift tools, poured it in flasks to keep hot and which soldiers then drank from stainless steel mugs.
On New Year's Eve, people would gather together and wait for the hour of midnight to welcome in the New Year and while away time reading Uncle Ho's poetry.
It was understood that both sides would stop firing to welcome in Tet Lunar New Year in a peaceful and harmonious way.
Each division in the jungle had an army recruit to prepare food for Tet. Women made paper flowers to decorate their huts and camps, and cooked jams and other sweetmeats. Later, people listened to Uncle Ho's poetry which kept them grounded to their national resolution and purpose.
From spring of 1946, when North Vietnam achieved independence, until 1969, Uncle Ho wrote letters to encourage people in and outside the country to continue to fight and protect Vietnam.
Through his letters to everyone during the Lunar New Year, people were able to understand clearly each period of the country's history as he reviewed the mission and put forward new tasks for every New Year. The letters reflected his thoughts and concerns for the country's future. They were also like verbal commands to attack the enemy.
In the area where the propaganda war was founded in the jungle, paths are winding and like a maze and hard to remember. Those from the delta area would get quite lost, except the messengers who found their way skillfully, despite the paths being covered with leaves and no trace of human footprints.
People could only walk in the jungle first on foot, later by bicycle and then motorcycles by the year 1975, the liberation year. Polish woman writer, Monica Varneska, wrote in her reminiscence of the times of underground activities, and what was most interesting was when a thin but tall messenger wearing a broad-brimmed hat and an AK rifle strapped on his shoulder, took her on a bicycle to every corner of the jungle.
Australian journalist Wilfred Burchett and French writer Madeleine Riffaud had the same awesome feeling when entering the jungle during war time.
President Ho Chi Minh was looking forward to visiting the South. In his letter to Le Duan, the first secretary of the Party Central Committee, he wrote; "Change of air, the cool sea breeze and being with the people of the South will help improve my health."
To prepare for the trip down South, Uncle Ho exercised daily. Unfortunately he passed away in 1969 and people missed his poetry and wishes dearly the following Tet Lunar New Year in 1970. Years later, on every New Year's Eve, people still hope to hear him greet on New Year.
The Ho Chi Minh Campaign in 1975 brought total independence for Vietnam. 37 springs have passed in the country and in the jungles in the South Eastern region of the country.
Night falls in the jungle. The young soldiers of war days gone by, are now elderly men who remember their late comrades and recall activities in the jungles in old days of glorious victories that seem to come alive.