The war ended nearly 40 years ago, but its effect does not. Many soldiers, with great efforts and sacrifice, are joining hands to help national construction and ease the pain of loss.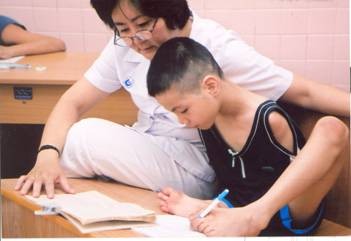 The file photo shows a doctor of Tu Du Hospital teaching Tran Binh Minh, who was contaminated with dioxin in Agent Orange, in Hoa Binh Village inside the hospital.
For many soldiers, it is good luck to return home safely from the battlefields. But for some, such luck turns into great pain upon seeing their children born with birth defects as they have to bear the impact of dioxin, the toxic chemical in Agent Orange, herbicides sprayed by the US during the war.
Khong Thi Thuy, Director of Phu Quy charity centre in northern Bac Giang province said her heart was broken when seeing these children. She was determined to help them and treat them as her own children.
In 2009, Thuy and her husband, themselves having a child suffering from the effect of Agent Orange/dioxin, established the Phu Quy charity centre. By now they have cared for over 200 child victims of Agent Orange. After receiving vocational training, many of them are working for the centre.
Thuy unveiled that sometimes her centre run out of rice and money so she and other staffers stay up all night to sew to have money for rice.
She recalled that on some occasions, the staff must care for 4-5 sick children at the same time. "It is really, really hard. But I think in order to do something for society and our friends, we should forget ourselves. If we just think of our own interests, it comes to nothing."
Bac Giang authorities provided the Phu Quy charity centre with 1.3 hectares of land, and many donors are also making contributions to keep it running.
Dong Khanh Vinh, Chairman of Bac Giang provincial Agent Orange Victims' Association, said although most of us retire and battle with diseases, we are committed to sharing with our comrades, especially their children, with all our heart, conscience and responsibility. The more we care, the more we pay tribute to our fellows.
The centre has received heartfelt kindness from war veterans across the country and foreign organisations via the Foreign Ministry and Vietnamese embassies worldwide to make it a cosy home for children with AO effect.