Along with the economic development, Ho Chi Minh City's waste volume, domestic and industrial, increases ten to fifteen percent per year. Some city agencies have thought of a waste market as the best solution.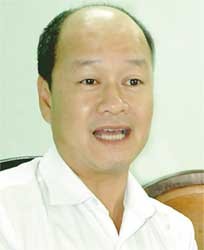 Mr.Nguyen Trung Viet

Mr. Nguyen Trung Viet, head of the Office of Solid Waste Management, under the city's Department of Natural Resources and Environment, said:




* Waste market is a network to link and encourage the reusing and recycling activities. The network aims to create an information channel so that industrial waste or side-products on one industry can become materials of another. Thus, waste can also be useful. A waste market will benefit enterprises, because companies can sell instead of spending spend money on treating waste.

* Companies are located all around the city; so if there is a transaction, will industrial waste be packed and transported along the streets?

* There will be a production model suitable for this market. We planned to construct ecological industrial zones in which one factory's waste can be material for another one.
For instance, next to food process bases and slaughter houses is possibly a factory processing animal feed from the waste products.

* How can enterprises be gathered?

* We will provide two models of ecological industrial zones. In the first one, waste trading will be conducted among local companies. In the second one, trade will be expanded to other businesses from outside.

We've applied this model for Linh Trung Export Processing Zone 2 in Ho Chi Minh City and Bien Hoa Industrial Zones 1 and 2 in Dong Nai Province.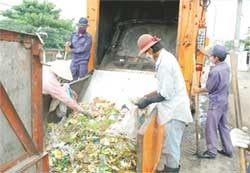 Workers of Go Vap Public Service Company are collecting garbage in Phan Van Tri Street, Ho Chi Minh City.
* Does the waste market apply for industrial waste only?

* Domestic waste market has also become very hectic. There are about 6,000-7,000 workers in Ho Chi Minh City who collect and transport domestic waste; the same amount of people collects junk to sell to 700 junkshops and 20 processing units. Buried waste can produce gas to generate electricity or organic fertilizers to sell to farmers.

* Do you plan to open the waste market to the world?

* The city has officially proposed Mitsui & Co., Ltd, a Japanese company, to survey the city's dumping grounds in order to call for investment and trade carbon dioxide. I think everything can be dealt with efficiently if we're determined to do.

* Thank you.