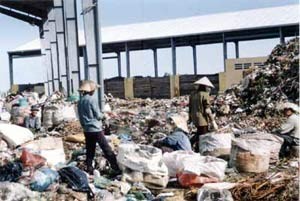 A waste treatment zone
Italian-Vietnamese Environmental Joint Stock Company received the production line of an Italian factory, which produces microorganism fertilizer from waste. The set of equipment donated by Bolzano's authorities (Republic Italia) arrived in Phu My port (Ba Ria Vung Tau Province) on May 22.
Italian-Vietnamese Environmental Joint Stock Company imported the whole technology and production line, which were made by Seinmuller (Federal Republic of Germany) to install in Phuoc Hiep Waste Treatment Complex, Cu Chi District, HCMC.
The factory, which will be treating waste and converting it into microorganism fertilizer, has a treatment capacity of 340 tons per day.
It then produces 72,000 tons of microorganism fertilizer with the method of aerobic biological treatment with the cost of US$5 per ton and a guarantee of environmental sanitation.
The factory will start in June, 2006 and is expected to finish in December, 2007.