State utility Electricity of Vietnam, known as EVN, warned the water level at most hydropower reservoirs nationwide were dramatically low, triggering a fear of a worse power shortage this year.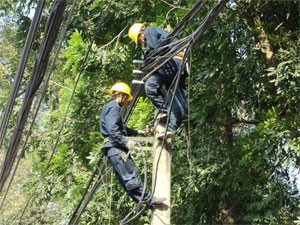 Power shortage problem this year will likely to be worse due to dangerously low water levels (Photo:Minh Tri)
Le Van Quang, deputy director of the Da Nhim – Ham Thuan – Da Mi Hydropower Company, said "the output of the company could be up to more than 15 million kilowatt-hour (kWh) a day. However, it is producing around nine million KWh per day due to low water levels."
Quang said the water level was 10 meters lower year-on-year, forcing the firm's hydropower plants to reduce operations. "Local farmers also need water for their crops," he said.
Tri An, among the biggest hydropower plants in the south, is coping with a similar problem, said Nguyen Kim Phuc, director of the Tri An Hydropower Company.
"The electricity output in the last two months ending on March 7th amounted to 43 million kWh only, equal to 2.5 percent of this year's target and 28 percent of the average year-on-year amount of previous years," Phuc said.
The water level of Tri An hydropower reservoir last year was 54 meters, which was eight meters lower than the common level and four meters higher than the alarmed one, he warned.
Phuc also noticed that a shortage of 2.1 billion cubic meters of water would be equal to a shortage of nearly 300 million kWh.
As the water level of the reservoir dropped significantly, Tri An produces an average amount of one million kWh a day, an equivalent of 40 percent of previous years' figure.
Le Minh Tuan, deputy general director of the Thac Mo Hydropower JSC, said his plant's reservoir lacked 500 million cubic meters of water, equal to 150 million kWh.
The current amount of water was around 80 million cubic meters, which could be used to produce 20 million kWh only, Tuan estimated.
"With water flowing at a pace of 15 cubic meters per second and the operation of eight hours per day, Thac Mo reservoir will drop to the alarmed level on March 31st. The operation will have to stand by," he said.
Speeding up electricity projects
With more hydropower plants put into operation this year, the electricity shortage problem in the dry season will be reduced to 1.7 billion kWh from the earlier expected amount of 2 billion kWh, according to the Ministry of Trade and Industry.
State utility EVN also announced it will try to ease the power shortage problem by importing more electricity from China and mobilizing power from thermal power plants.
It will also speed up construction works on new hydropower plants, which are expected to be operational in June. They include Song Tranh 2, An Khe – Ka Nak, Son La and Uong Bi, with the total output of 1,08 megawatt.
The utility purchased 956 million kilowatt-hours from China in the first two months, up 28.89 percent from the same period last year.
Vietnam depends on hydropower plants for up to 40 percent of its electricity demand.