According to the Ministry of Transport, most of the World Bank funded traffic projects are running behind schedule in Vietnam, mainly due to capital shortage or sluggish site clearance.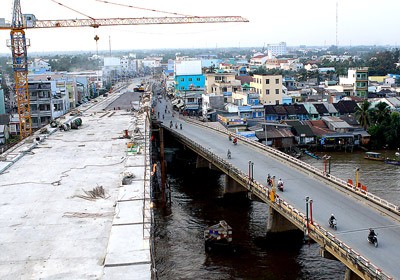 Ongoing construction of Cai Rang Bridge over the Mekong Delta (Photo: SGGP)
The project to develop the waterway transport (WB6) in the northern region is one year behind schedule. The World Bank has provided US$170 million of a total capital of US$200 million needed to complete the project.
Also behind schedule is the 140km Da Nang-Quang Ngai Expressway project, for which WB has provided VND11.1 trillion (US$532.33 million).
Similarly, the development of traffic infrastructure in the Mekong Delta (WB5) is delayed due to capital shortage. The Ministry of Transport has arranged VND40 billion ($1.9 million) for this project but it needs upto VND724 billion ($34.6 million).
Dinh La Thang, Minister of Transport, has instructed relevant sides to clarify reasons for the slow progress of the above projects and find out measures to rectify the situation at the earliest.