The World Bank (WB) on Thursday approved a loan of US$50 million for Viet Nam to reduce poverty in remote areas.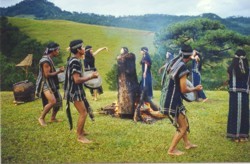 The Vietnamese government's Program 135 Phase II targets ethnic minority communities and mountainous areas

The money will be spent on Program 135 Phase II, a five-year poverty reduction program of the Vietnamese government to be implemented from 2006 to 2010.

It targets 1,644 communes and 2,500 villages in 45 provinces which are home to the majority of Vietnam's ethnic minorities.

The program budget is approximately US$1 billion and financing activities are grouped according to four broad components: basic infrastructure; improved and market-oriented agriculture production; improved socio-cultural livelihoods through better access to social services; and capacity building for officials at all levels to better implement the program.

According to the World Bank, although Viet Nam is one of the world's fastest-growing economies, the poverty rates in ethnic minority communities and mountainous areas remain high compared with other parts of the country.