The State Bank of Vietnam (SBV) and the World Bank (WB) signed off on a loan for 500 million USD in Hanoi on November 12 to help the energy sector improve the efficiency of the national grid transmission.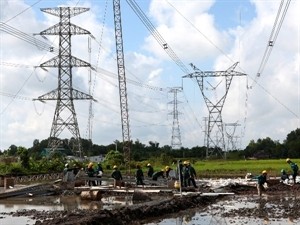 WB lends 500 million USD for grid transmission project (Illustrative image. Photo: VNA)
The money will be spent on the installation of more than 1,000km of transmission lines and the establishment of a smart electricity network in areas that are crucial for socio-economic development, including greater Hanoi and Ho Chi Minh City, as well as the Mekong Delta and the central region.
Victoria Kwakwa, WB Country Director in Vietnam, said improving energy efficiency was key to reducing greenhouse gas emissions and mitigating the impact of climate change.
The project will help contribute to 15 percent of Vietnam's transmission network growth until 2020, prioritising investment in major economic development areas where transmission overloads are commonplace or could become common in the near future.
It also supports smart grid technologies to monitor, control and protect equipment in order to improve the reliability of energy supply and reduce electricity transmission losses, as well as building the capacity of the National Power Transmission Company.
The total required investment for the project was estimated at 731.25 million USD, with 500 million USD borrowed from the International Bank for Reconstruction and Development, the World Bank's lending institution for middle-income countries.
The remainder is financed by the National Power Transmission Company under the Electricity of Vietnam (EVN) company.