The World Bank chief in Viet Nam said he had not seen any sign that international donors would reduce their official development assistant (ODA) commitments for Viet Nam this year compared with last year's record amount of US$3.7 billion.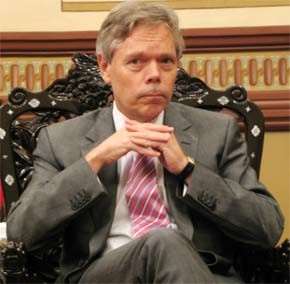 Mr. Klaus Rohland (Photo: Tuong Thuy)
Mr. Klaus Rohland, the WB's Country Director for Viet Nam, spoke to Sai Gon Giai Phong newspaper on Monday, a few days ahead of this year's Consultative Group (CG) Meeting for Viet Nam this weekend in Ha Noi.
The meeting is an opportunity for the Vietnamese Government and international donors to discuss issues relating to the implementation of the country's socio-economic development plan.
Mr. Rohland said what's new at this meeting is the fact that most of the donors will support Viet Nam's 2006-2010 socio-economic development plan. They will also mention the 2006 APEC Summit results and make suggestions for Viet Nam to carry out its WTO commitments well.
Also the meeting agenda will include raising the effectiveness of ODA capital and fighting corruption.
 
This year's CG meeting will be attended by the Vietnamese Prime Minister for the first time, which means the government highly appreciates international integration and donor activities.
"The PM said he wanted to listen to the donors and would have open dialogs with them. I think the dialogs will relate to challenges Viet Nam has to face in the next five years," said the WB country director.  
The WB chief economist in Viet Nam, Martin Rama, mentioned five challenges: carrying out integration commitments, reforming State-run enterprises, upgrading infrastructure, improving social welfare, and fighting corruption and improving public budget management.
Regarding a major corruption scandal at the road and bridge building agency PMU18, Mr. Rohland said the WB is still inspecting the case, so a final report will be not available at the CG meeting.
WB economist Vivek Suri has forecast that Viet Nam would enjoy a GDP growth of over 8% this year. Foreign direct investment inflows could reach US$9 billion, while both trade balance and payment balance would be likely to be in surplus. However, inflation is still there, 8.2% last year and at a forecasted 7.5% this year.