The World Bank will provide a US$200 million credit to Vietnam to help improve farmers' access to finance under a loan agreement the two sides signed on Nov. 14.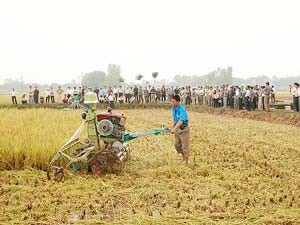 More farmers will benefit from the WB-funded Third Rural Finance Project
The WB's acting country director for Vietnam Martin Rama and State Bank Governor Nguyen Van Giau signed the credit in Hanoi.
The money – coming from the International Development Association, the WB's concessional lending arm for low income countries – will be used for the Third Rural Finance Project. IDA will provide US$200 million out of the total US$230 million project cost.
The project aims to provide loans for investments in productive assets and associated working capital needs for micro and small enterprises with less than 50 employees, providing micro credit to the rural population, and assisting the participating credit and financial institutions to render better services and develop new products for the rural areas.
Mr. Martin Rama said "The lack of medium and long-term funds available to banks constrains their ability to provide longer term loans for much needed capital investment by small and medium-sized enterprises."
"The project is the third in series of rural finance program which has brought far reaching impact on advancing the development of the rural finance system in Vietnam," he added.
As many as 90,000 private enterprises and about 20,000 households are expected to benefit from the project, and some 150,000 new jobs will be created for local workers. It will target almost all of the localities across the country, but not ones in the major cities of Hanoi, Hai Phong, Da Nang and Ho Chi Minh City.
The money will be channeled through the Bank for Investment and Development of Vietnam, which performs a wholesale banking function in disbursing the funds to the other financial institution, In turn, the financial institutions will provide loans to rural households and enterprises.
State Bank Governor Giau said the project followed a 12-year period of successful cooperation between Vietnam and the WB in efforts to develop agriculture and rural areas, and strengthen financial systems in the areas.