The State Bank of Vietnam and the World Bank signed Wednesday a US$500 million credit agreement for the WB's biggest ever loan to Vietnam, in order for the country to reform public investments.

The loan, which is the first from the WB's International Bank for Reconstruction and Development (IBRD), also aims to support Vietnam's stimulus package.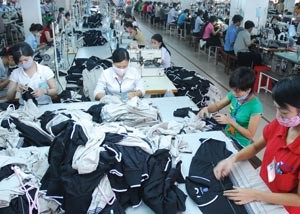 Workers make clothes at a garment company in Ho Chi Minh City. A US$500-million loan the World Bank signed with Vietnam to help the country reform public investments also aims to assist its stimulus package. (Photo: SGGP)
"Public investment remains a very important engine for Vietnam's growth, accounting for more than 30 percent of total investment, and 12.6 percent of GDP," Victoria Kwakwa, the WB's Country Director for Vietnam, said in a statement.

She added, "Public investment reform is a long-term process and critical for further development of Vietnam. Reform measures within the timeframe of the operations are important but several challenges remain, notably the SOE reform agenda. We encourage the Government to continue the reform and are pleased to provide timely support, both financially and technically."

The 25-year loan has a ten year grace period. It has a front-end fee of 0.25% of the loan amount, and the interest rate is the LIBOR (six months) for the loan currency plus the variable spread (0.17%)

The WB said the main goal of the loan, the first of two single-tranche operations, is to support a series of policy measures that are expected to strengthen the public investment in Vietnam.

The reform program covers various areas including environmental screening of publicly funded infrastructure projects, environmental management, project preparation and appraisal, procurement, public financial management, the regulatory framework for private participation in infrastructure and monitoring and evaluation.