The National Hydro Meteorological Forecasting Center has said that the weather has now cleared across the country with rainfall having abated.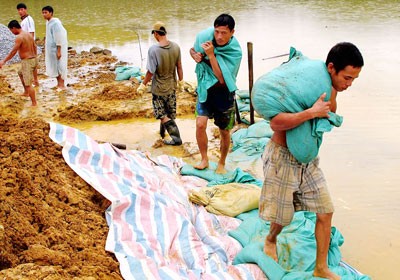 Residents fortify a reservoir in Huong Khe District of Ha Tinh Province (Photo: SGGP)
Daytime will see sunny and clear skies but afternoons and night will see scattered rainfall, particularly in the southern and central regions.
Average temperatures will remain around 27-30 degrees Celsius in the Central Highlands and 29-32 degrees in the southern region. Hoang Sa (Paracel) and Truong Sa (Spratly) Islands will also remain sunny.
The northern region will see sunshine, with temperatures fluctuating from 23-31 degrees Celsius. Mountain areas will be rather cool with mercury dropping to 13 degrees in some places.
In related news, the Tay Nguyen irrigation reservoir in Quynh Thang Commune in Quynh Luu District in the central province of Nghe An burst on October 11.
The province still has 1,238 other reservoirs, but which are all very old and downgraded as they were built from around 1970-1980.
Most reservoirs in the neighboring province of Ha Tinh are also old, built during 1950-1960. Of these, 20 are highly vulnerable to flooding and in urgent need of repair.