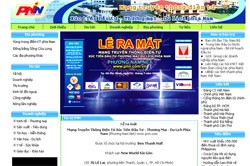 The new website
The website of Southern Tourism –Trading - Investment Promotion "http://www.pnn.com.vn" was launched on July 21 in Ho Chi Minh City by the Southwestern Region Steering Committee, Southern Foreign Investment Center, Ministry of Planning & Investment, People's Committees of the Southern localities and a group of 18 southern enterprises (G18).

The information on the website will be introduced the order of municipal to lower levels, unions and enterprises.
It can also replace websites of any single locality and enterprise, making it a web-to-web link.
On the opening day, Dr. Pham Hong Ky, Director of Southern Foreign Investment Center, said that the website will become the main information channel  helping promote tourism, trading, investment in the South.